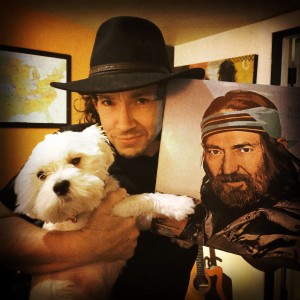 These aren't the 10 records I love or jam the most, but in looking back to what informed my tastes in music and what kind of music moves me to this day, these are 10 of my all-time faves. I don't believe that what you start with is all you can appreciate (I got into blues, jazz, and classical music soon after this round of early pop, rock, and country), but I do understand how many of us hit on what will be the music we listen to for the rest of our lives. Ages 10–18 seem to be the most formative years. You start asking the bigger questions, your hormones start throwing you around the room. You have your first dreams of what you want to become (or DO NOT want to become in the case of children dealing with pain at home). This is the age where you start to ask some bigger questions, and you start to dream. I hope every kid always dreams big. This world could use it.
I was a shy kid, and I loved being alone (no one who knows me now would believe this). Many performers are very extroverted in public and then hide out in a room—anyone who ever asked me to the after-party knows it's a hard sell J. These are the records I used to hold up in the tiniest little spaces and play over and over and over…
1. KISS—Dynasty
One of the most hated records by ardent KISS fans. Starts with disco, for Christ's sake. But there are some great tunes on here. "Sure Know Something" is killer. A decent Stones cover. It doesn't hold up like some of the other stuff (and if you have KISS, none of it holds up J), but this is linked to a very strong moment in childhood. My pops came back from working in downtown Detroit and gave me this cassette, plus tickets for me and my best friend across the street, Jason Melton, to go see the band. Superheroes breathing fire, flying across the room, playing loud rock 'n' roll. There was nothing cooler.
2. Queen—The Works
From the first note of "Radio GaGa," I thought there was a hole blasted in the sky and I was looking into heaven. This whole record still has one of the coolest, tightest, most punchy sounds ever. Mack is an all-team beast. None of the towering Queen standards are on here, but the range of music on this record, all still sitting perfectly on the same plate, just amazes me. Metal to pop to rockabilly to opera to a gorgeous 12-string ballad called "Is This The World We Created?". That song mentioned the environment well before half of us realized anything about global warming.
It also mentions our moral obligations to help others. I didn't know any of that at 10; I just worshipped the drum sounds, Brain May's guitar sounds, and Freddy's absolute mastery (still possibly the best rock 'n' roll vocalist of all time)—but I'm sure the seed was planted to rage and ramble against the system. Years later, out on the road, Billy Driver started singing "Hammer to Fall" in the van. I lost my marbles knowing someone else understood what a killer record The Works really is.
3. Prince—1999 (and shortly after, Purple Rain)
"Delirious" and "Little Red Corvette" were the singles on the radio in Ann Arbor when I got this. But the amount of music on this record is insane. Some of the cuts were six to seven minites long, and the fearlessness of just letting the Linn drum machines loop while he tried new middle 8s at the end of songs, killer guitar solos, bizarre and wonderful bell-like keyboard chords… You could just hear the fearlessness and bravado that was about to give us some of the best records ever made, such as Purple Rain and Sign of the Times.
Prince's most filthy lyrics are on "Let's Pretend We're Married." I was so scared of my mother hearing me listen to this thing, I used a cool trick to dub over the dirty parts. If you put a little piece of scotch tape over the left and right sides of a regular cassette, you can dub over it. I went to the spots where Prince was getting X-rated and just jammed over it for a bit, took the tape off, and no one in the family seemed to notice how awfully lo-fi those records became for a few seconds at a time.
Must also say that Prince LIVE was one of the most unifying, beautiful, religious experiences I have ever known. He brought EVERYONE together in a world where we sadly seem to be slipping apart more every day.
4. Willie Nelson—Always on my Mind
This and Red-Headed Stranger are still my all-time faves. Rakki and I danced to "Let It Be Me" at the wedding. The DJ we hired said, "I've never had to play so much Willie in my life." I put my arm around him and said, "Well, you ain't been to a wedding this good, I guess."
5. Waylon—Black on Black
My momma used to play this round the clock around the house in Michigan, right before we moved to Kansas. Anything you hear as a little kid when change is about to come burns its way into your brain forever. I soon rebelled and started listening to hard rock and all my guitar heros. But the sound of Waylon's whisky-soaked voice on this record with Chips Moman's perfect round analog sound is just magic.
Last year my lady cut up and put in old wood panels all up and down the entryway of my studio. In my mind, it's how Chip's studio looked when Willie and Walyon and Kristofferon would come in to record in the '70s and '80s. Every time I walk down the basement stairs to record, I get a little thrill thinking I'm capturing that analog Nashville magic.
6. The FIXX—Reach the Beach
This one still stands up. Rupert Hine is a beast of a producer. This thing sounded so far ahead of its time and got me into looking for that shimmery chorus sound. I went through Kamen and Boss pedals, the Rockman, all of it, but never found the sound. Then, just a few months ago at Sound City, Matt Wallace nailed the EXACT sound I heard in my head from childhood by taking an old blue Boss chorus pedal and turning the main dials to ZERO. You can hear it on "House Is Not a Home" and "Love Is Not" on the upcoming record. '80s magic. Anyway, we were friends with this amazing Cuban family down the road in Ypsilanti, and they would somehow frame their backyard with wood and fill it with freezing water every night until they had a makeshift skating rink for the neighborhood. While all the other kids skated, I would sneak into the basement, turn the vinyl on, and jam this over and over again. "Saved by Zero" is still an all-time jam.
7. Def Leppard—Pyromania
Anyone old enough to remember how it felt to rewind the intro of "Rock of Ages" and attempt to decipher what Rick Allen was saying in the count off just put their rock 'n' roll horns up in the air. I still feel like "Photograph" is one of the best, most melodic rock songs of the '80s.
8. Yngwie Malmsteen—Rising Force
So we will save the therapy hour for the other blogs, but my parents were heading toward divorce between ages 10 to 12. You could feel it in the house, and though I didn't know it at the time, there were pretty specific events that caused the cracks in the pavement. This record may have saved my damn life. The classical intro to the record going into "Black Star" and then that triplet delay before the main melody comes barreling in. My God. I watched Jason Becker play this on the brillant documentary.
And that's all I was trying to accomplish between ages 10 and 12. I became a hermit, playing in my room, copping everything I could from Yngwie. Considering I grew up under the piano with my mom playing classical piano, it makes sense I was so drawn to a heavy metal guitar player who was basing his whole thing on violinist Pagannini's concertos. Yngwie gets knocked for being a pretentious bastard, but you have to give it to him. As killer as Randy Rhodes and Eddie Van Halen were, NO ONE was playing this sound. And Yngwie was totally willing to say where he got all his fire from (Pagannini). This eventually led me to Satriani and Vai (the dueling guitar scene in Crossroads is still my favorite few minutes in movie history). As much as playing lead guitar became the focus of my youth, I have to say, all these records filled with 64th notes probably set my songwriting back about a decade J. Still—what fun. And in the days before we got to see a shared photo of every meal our bands eat and pictures of their dogs and cats, these guys might as well have hung the moon.
9. Queen—Flash Gordon soundtrack
Queen makes the list twice. When I saw the movie Ted and realized there was a cult following for this film, it made my day. I thought it was just my buddy Lance Vannerson and myself J. We both made our significant others at the time watch this film and were lucky we weren't booted out of the room. Just terrible. But the soundtrack has some killer moments—total fearless prog rock Queen. Harmonies for days on guitar and vocals, and Freddy sings this thing with so much passion and intensity that, as a 10-year-old kid, it can make you weep. My cousin Justin and I used to watch Flash Gordon and National Lampoon's Vacation on a constant loop. I'm sure the line "HE'LL SAVE EVERYONE OF US!!!" is still ringing in his parent's eardrums (big love to Mary and Jack). I used to put all the pillows around my bed and pretend I was part of the winged fighter battle at the end. This also makes the list cause it's obvious to me now this was the beginning of my undying love of movie soundtracks and film and TV music.
10. Michael Jackson—Thriller
What do you say here? It was a movement. I've heard Barry Gordy say it's unlikely that anyone will ever sell this many records or create this kind of hysteria and cultural phenomenon. Michael moonwalking for the first time LIVE on MTV was as cool to a 9-year-old as an actual astronaut landing on the moon would have been. In the '80s, no one could avoid this record, and no one should have. Anybody buy the jacket or the glove?
Members of Toto were the backing band on this. (If you don't know Toto, just hum "I guess the rains down in Africa…" Brilliant, right?) Steve Lukather became one of the guitarists I studied religiously. That band grooved so hard, it made no sense. If you know any of Toto's music, you can hear their sound almost verbatim on "Human Nature." That is my fave track there. It's just butter from start to finish.
All right. I could go on here forever. I'll do another one of these soon that is my top 10 records of all time—stuff that I believe holds up no matter when you listen to it. If you have any fun memories of these records or tours, let me know. I'll respond on Facebook where I originally posted this.
—Gooding
Subscribe to our RSS feed: http://goodingmusic.com/blog/feed/