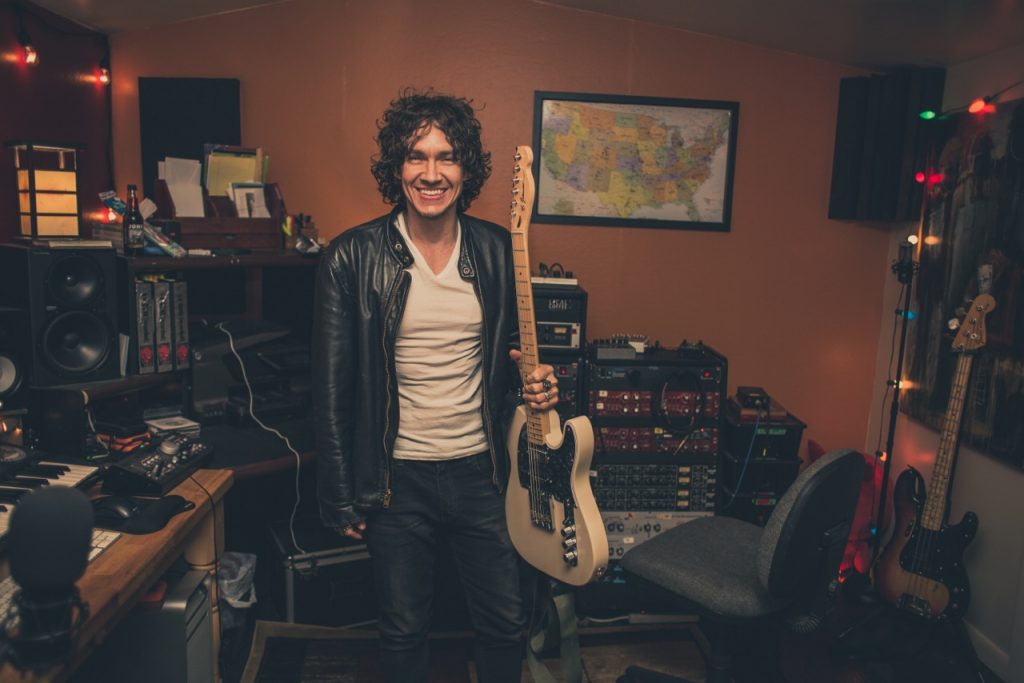 I just finished an amazing book called Can't Hurt Me by David Goggins. He went from 300 pounds and spraying bugs at fast-food restaurants with Orkin to being a Navy SEAL and Army Ranger, running 60 ultramarathons, doing 4,030 pull-ups in 17 hours, etc., etc. Insane proof of the mind over the body. One of his favorite and strongest weapons was listening to songs that inspired him over and over while he worked out or achieved his feats of strength. He talks about going back to great memories in your life to pull you through adversity. Like so many of us, my best memories are tied to music. A good song can take you back in time to exactly where you first heard it. I urge you to make a playlist that reminds you of different points in your life that light you up. It's a blast to have.
Here's one I made today. Let me know what you think, you fine people…
1. Prince, the entire Purple Rain record, but specifically "The Beautiful Ones." I used to ride my BMX around Wichita listening to this record on repeat. When he screams after "DO you want me? 'Cause I want you, I gotta know, LISTEN TO ME" might be the most emotion ever captured on analog tape. Listening to any Prince song reminds me of seeing him live, which were some of the best moments of the band's time on the road. There has never been anyone better live. Ever.
2. Samuel Barber, Adagio for Strings. Ol' Goggins reminded me of this chestnut in his book—it was used in a scene in the movie Platoon and might be the most beautiful thing ever recorded. I remember hearing Sting snipe once that "it's a beautiful song—can't believe an American composer wrote it." Ha ha ha. I think Sting is a beast so I'm letting that one go. 🙂 This song brings back a wonderful memory for me. Our high school band director Marla Weber took the North High orchestra to state with this song. Hearing them play this every morning while we were suiting up for drumline almost brought me to tears. I put this on whenever I am on a long run or workout, and the fire burns bright.
3. Kongos- Traveling On
"Cause when the road takes it's toll
These cities come and go- Filled with people I don't know
You'll be in my heart and I'll dream of where you are tonight
When the years pass us by I wonder if we'll cry
For losing so much time
From moments we may miss
For the love that still exists tonight
If you are a road dog and trading time with a loved one back home for shows- this track will break you in two. This song brings me back home everytime. The things our partners/wives/husbands put up with for us to be in the circus.
4. Paul Simon, "The Vampires." When I lived in Fort Collins, Colorado, I had this on a workout mix that started each day. That piano and percussion comes in, and I can get awake from the deepest morning slog. This track and strong coffee are all ya need. This record was panned to high heaven, and a lot of it is not my cup of tea, but this song jams—and it's another shining example of Paul Simon being able to work in ANY genre and make it his own.
5. AC/DC, "Back in Black." When I was around 12 or 13, right after I moved from Detroit to Wichita, I played in a band with some guys years older than me called The Other Side. They were all so wonderfully patient and kind having a young dork in their midst. I was so green. I played guitar, but the drummer, Troy Hagar, could sing exactly like Brian Johnson and Bon Scott, so they put little ol' three-foot-tall me on the drums for this one and let the real drummer belt out the lead. Sitting behind Troy's huge black drum set for a song in the roughest clubs in Wichita was a high point for me at a time when I needed a little confidence more than anything. This song would give a church mouse a little swagger.
6. Queen, "Radio Gaga." I was obsessed with Queen as a kid (still am). This was the first song I heard a heavily quantized sequencer do its magic. I never got over it, and I never will. I love this track and Queen's entire catalog. This whole record is recorded so well, it's nuts. It's kind of like watching 2001: A Space Odyssey and then realizing they made it look that good in the '60s. This record was made in the mid-'80s and sounds current to this very day.
7. Massive Attack, "Paradise Circus." In 2010, Jesse Reichenberger, Billy Driver, and I did every state in the lower 48—24 of them twice. Our fearless booking agent, Deb T, and our former manager, Joe Preckajlo, booked us from bowling alleys to bookstores, festivals to 16 military bases. We were somewhere down south playing 7 days a week for months when the road wear finally got to us, and we were waking up barely able to figure out what city we were in. Thankfully, Jesse got us hooked up at a nice hotel chain for cheap, and the three of us (no crew or road manager at the time) started staying in the exact same style hotel every night. I played this to get my bearings every morning. Having the same hotel brand and same music can go a long way to habituating you to an ever-changing sleep schedule while you miss home for a few months. Thanks to Billy, Jesse, Deb, and Joe for a tour that would have broken most outfits in half.
8. Carter Hulsey, "Heart Still Broke." Yeah this is cheating 'cause I produced this one and Carter is a close friend, but neither of those things make it any less perfect to listen to. 🙂 This takes me back to the first days after I moved to Nashville. The smell of new paint and flooring as my wifey and her mama built a studio with my favorite rooms sounds ever. Carter set up in the back of the control room in the darkness, belting out some of the most beautiful lyrics and melodies I've ever heard. This is simply a perfect song. Stunning.
9. Bob Dylan, "Not Dark Yet." Haunted and prophetic, as is so much of his best work. Daniel Lanois put the warm New Orleans humidity all over this take. I laid in the back of the van playing this on a loop for days on tour a few years back. It grounds you and tears you up at the same time. Dylan talks about this record (Time Out of Mind) in his book Chronicles, maybe the most perfect rock bio I've ever read.
10. Bonnie Tyler, "Total Eclipse of the Heart." This takes me back to being a little kid in Detroit, Michigan. If you hear this song young with no cynicism in myour heart (and it being tied to the wedding singer) it will blow your mind. Jim Steinman wrote melodies that swept across the land.
11. Coldplay, "Lost!" This song you can play on a loop for a long, long time. That groove on the djembe just rolls. This one reminds me of living in Los Angeles and working out behind my little shed right off the 101 highway. The pure sunlight and the Pirates of the Caribbean night sky. LA is magic, and so is this track.
12. Sade, "No Ordinary Love." When I went off to KU for a few years before I joined the circus, this was one of my study records. You can put this on in the background, and it just rolls. It lowers your heart rate and focuses your mind. I still got a horrible grade in political science, but that's not her fault. Saw this tour live, and she is a queen. A QUEEN, I TELL YOU!!
13. Willie Nelson, "Always on My Mind." This was on a loop as a kid. If you have read any of my blog posts, I have already talked about Willie in basically every one. He is a national treasure, and the day we lose him, don't call me for a month. This man hung the moon.
14. Dolly Parton, "9 to 5." Speaking of national treasures. Just saying Dolly's name makes you feel better. My mom and sister and I watched this damn movie on a loop back in the day. I still love it, and when the reboot comes out, I will throw my wallet at the screen.
15. U2, "Love is Blindness." I saw U2 close one of their shows with this- Our seats were so far back, when drummer Larry Mullen hit his snare, you didn't hear it for another second. Didn't matter one bit. The show was perfection. We were freezing cold, but our souls were on fire watching U2 firing on all cylinders. They finished this track- went into encore of "I can't stop falling in love with you." Then the lights go black, the music gets louder—it sounds a little different, but you can't tell why—and a few seconds later when the lights come up, you realize they have replaced their live playing with the actual Everly Brothers track across the PA- and they are not on the stage any longer. They have already left and gotten into the limos before you know they are even gone. You are just left to bask in their glory. Coolest exit I've ever seen a band pull off live.
Honorable mention: Everything Radiohead has ever recorded. The depth of the production, songs, lyrics. It can all glue you into any special moment in time. Another band that plays so well live and gets so lost in the music, it's beautiful and terrifying.
If you have any stories of bands you have seen on this list, please share them on whatever social media you are reading this tomfoolery on.
Thanks for the walk down memory lane with me. Be good to each other, and I'll see ya next Weds. Same place, same time.
G
Kingston Springs, Tennessee
Please subscribe to @goodingmusic on all social media.
You can also subscribe to our blog's RSS feed: http://goodingmusic.com/blog/feed/.