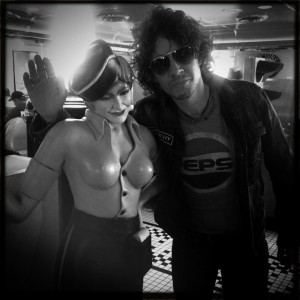 Here are 25 jams I'm playing nonstop right now, and what moves me about these gems…
1. Jason Isbell, "Flying over Water"—This song breaks my heart into a thousand pieces, mostly because Isbell is a genius, and his voice is so pure, it can make your worst day bearable—but also 'cause my wifey HATES to fly and I ask her to fly all the time. Only Isbell gets "liquor cart" in a song and it makes you want to save the whole world from itself. What a beast.
2. Audioslave, "Show Me How to Live"—This entire record is pure fire. Best workout record ever. We miss you, Chris.
3. Dire Straits, "Brothers in Arms"—Was reminded of what genius this was when it was used in West Wing when Bartlett was deciding whether to run for president. The guitar work is understated and perfect. Speaking of that Dire Straights guitar work…
4. Mark Knopler, "Speedway at Nazareth"—At first glance I was like, this song is cool, whatever. And then the back half kicks in with gorgeous guitar work and movie trailer-like drama. On repeated listens, this song gets completely hypnotic. Knopler might be the most underrated player out there. Tons of scores and beautiful solo records.
5. Ashley Mcbryde, "Home Sweet Highway"—We were at some jam nights with Ashley a couple of years back and watching her blow up has been a joy. There is no one better live, no one better writing, she is just a miracle. This song nails the open road.
6. Emmylou Harris, "Goodbye"—Written by the brilliant Steve Earle and produced by one of my heroes Daniel Lanois. Her voice is what you get if there is an afterlife. Long reverbs and smashed compressors and miracles abound.
7. Young The Giant, "Something To Believe In"—This song is so behind the beat and just oozes vibe. The vocal is killer, and the lyrics are perfect. Just a jam.
And he says, "I've got you written
In a black book by the railroad track
You see, I know your fate"
And I say, "You've got to listen
I'm a songbird with a brand new track
You underestimate"
I'll give you something to believe in
Burn up the basement full of demons
Realize you're a slave to your mind, break free
Now give me something to believe in
8. Zeppelin, "Since I've Been Loving You"—One of the first songs I ever heard from them, and I was hooked. One of the greatest drummers, vocalists, guitar players, and bass/key/arrangers, all in the same band. This kind of groove gets a bad wrap as it's done poorly in blues clubs everywhere, but when it's done right, it's pure magic. (Note to other nerds like me: Yeah, this is the one you can hear the squeak in Bonham's kick pedal—they miked it from the front.)
9. Prince, "17 Days/Piano and a Microphone version"—As Jimmy Jam said, whatever your first instrument is, Prince plays it better than you do. I listened to the album version growing up, but hearing The Purple One just murder a piano and work it out on a demo is bliss. Hearing him talk to the engineer makes you miss him so bad. This was a one-in-a-billion artist and mind. Also, the best live show I've ever seen by a landslide.
10. Daniel Lanois, "The Maker"—This song is so heavy and well put together, it could be a gospel standard. Lyrics, chords, a groove from a leftover Neville brothers rhythm section track down in New Orleans, it just drips timeless magic. Willie did a fine cover over these same tracks, too. Lanois has produced everyone from U2 to Peter Gabriel, and he is as good as it gets.
11. Gustavo Santalolla, "Iguaza"—Some of you fine folks might know this as the theme song for Deadwood (can't wait for the movie to come out!), but this is a perfect distillation of this brilliant guitarist/composer. I was dueling this Argentinian foreign exchange student named Francisco DeLuca on guitar the other night in Casper, WY (Thank you Devores)  I brought up Santaolalla—the kid didn't know what I was talking about 'cause I pronounced the name so poorly. Once I learned "SANTO-LAGH-A," we found an instant bond.
12. Waylon Jennings, "Slow Movin' Outlaw"—One of my best friends and favorite musicians on the planet recently sent me this song, and despite growing up on Willie/Waylon and Cash, I had never heard it. It's perfect. This track perfectly encapsulates someone I recently lost—and my friend was somehow able to put that person in a frame that I can take with me everywhere inside this song. A woman named Dee Moeller wrote this track, and she nailed the lyrics. Here's to the gypsies and pirates still out on the road looking for something a little deeper than another steal on Amazon or another strip mall closer to the house.
13. Stevie Wonder, "Signed, Sealed, Delivered I'm Yours"—Much like Lionel Richie or Elton John (thanks, Tony Hubbard), when this comes on in the van, you just start bobbing your head, no matter what your mood. Stevie's genius knows no bounds. Like Prince, he played every instrument on many of the early recordings.
14. David Bowie, "I'm Deranged"—I've always been a bigger fan of Bowie's more dark, abstract stuff, and this song was a sleeper from Lost Highway that I have heard a thousand times. Never gets less cool, and you can always find one more weird piano fill or layer. The white duke. How did we lose you, Prince, and Cohen in the same year?
15. Bob Dylan, "The Times They Are A Changin'"—If you are someone who hates his voice and wonders why every artist worships him (that was me when I was little), check out the lyrics to his first four records. We are lucky the sky didn't split and just eat us up. Shakespearian in scope and depth. Insane. Hard to hear this now and not think of climate change.
16.The National, "Bloodbuzz Ohio"—I got turned on to this by Trae Crowder's hysterical and wonderful book The Liberal Redneck Manifesto—and you can put this song on a loop and just hear it for hours. Perfect vibe.
17. Royal Blood, "Out of the Black"—IS there anything better than a simple riff done well?
18. Caesaria Evoria, "Sodade"—Listen to this and drink red wine and get some fresh ink ready for your journal. Friends at my little dinner parties at some point in every gathering have to say to me, "Can we play something other than this record?" 🙂
19. U2, "Love Is Blindness"—The band said they almost broke up making this record; stopped believing in it halfway through. It turned out to take them to another level and is in my top five records of all time. I went by Hansa Studios when I was in Berlin just to see where it happened. Stalker. Weird, I know. This record and tour was formative for me on so many levels.
20. Calexico, "Sonic Wind"—I love so much of what this band does, but when Dave Grohl used this track on Sonic Highways' "New Orleans," I was reminded that they nail a vibe so cool, it's almost unreal.
21. Cash, "When the Man Comes Around"—One of the few artists who went out as strong as he came in (odd comparison, but Judas Priest are doing the same thing right now—some of their best work in their '60s and '70s). The last few Rick Rubin records are a blueprint to songwriting and singing with authenticity. This was a song Cash wrote later in life, and it's serious medicine. Side note: Putting in "Johnny Cash" into Spotify and getting Jason Aldean's song "Johnny Cash" as the first result was a little heartbreaking.
22. Brandi Carlile, "The Joke"—This and Ashley McBryde could have won every Grammy this year, and we would have cheered all night. The last section of this song is as good of a vocal performance as has ever been captured. A song for our time if there ever was. "It's your brother's world—for a while longer…"
23. Kongos, "Take Me Back"—This takes a minute to start rolling, but the chorus, it's gorgeous. The changes give me chills. I love almost everything this band does, no matter what, but the last chorus after the snare build will help you break through whatever you are afraid of. This crew from South Africa should be even bigger than they are. I just love them.
24. Sia, "Chandelier"—Yeah, we have all heard this a million times, but it's rare you get one of the great all-time vocal performances onto Top 40 radio without a ton of auto-tune. And a hook as simple as 1-2-3 drink is actually dealing with depression and addiction. This chorus is so epic and elegant, I could listen to it forever. This woman is magic.
25. Roots, "Stomp"—This band is so strong, it's unreal. Undun is my favorite of their many killer records. The lyrics on this record will take your soul. Blues guitar over dirty drums and these lyrics? My God. Questlove's book was a perfect companion to revisiting their entire catalog—33609 compressors and hi-hats made out of crash cymbals—can't wait to try it.
—Gooding
Please subscribe to @goodingmusic on all social media.
You can also subscribe to our blog's RSS feed: http://goodingmusic.com/blog/feed/.