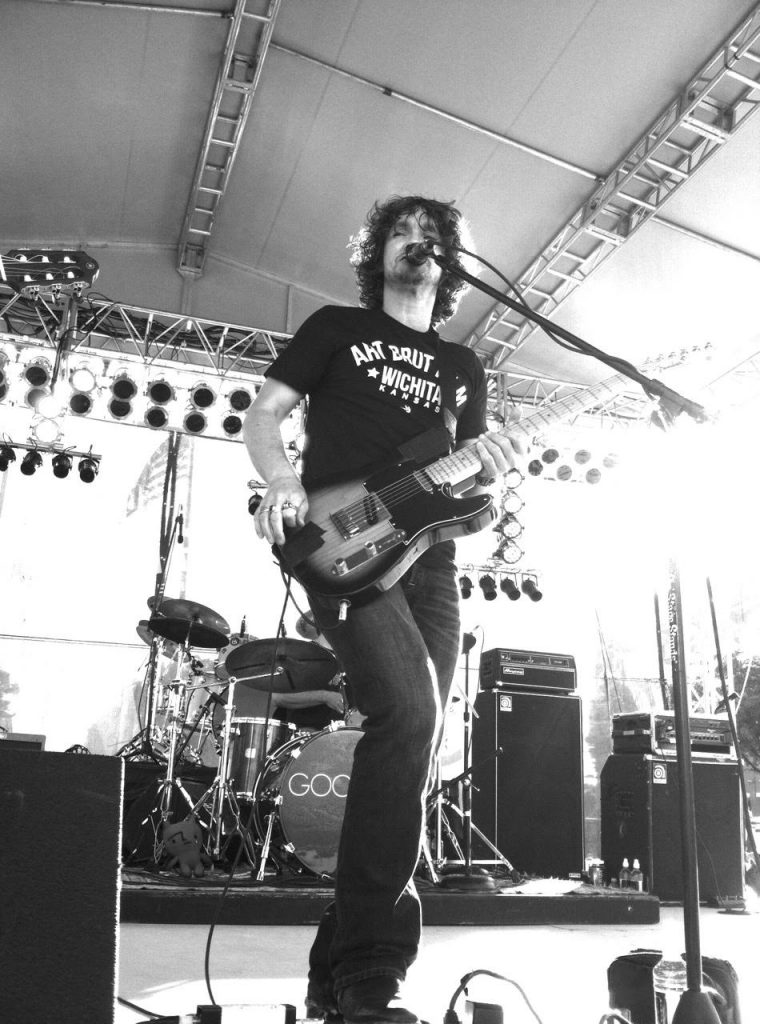 "Streets of Wichita"
Dirt road to 27th
A little small for my age
Train tracks packing plants
A heart full of rage
Finding some magic
To break a rusty cage
In the streets of Wichita
The streets of…
All these rusted memories
First a hint, then a flood
These old ghosts of Kansas
Running straight through my blood
10 years crossing over
Gravel, steel, and mud
In the streets of Wichita
The streets of…
Last week we got back to the old stomping ground—Wichita, Kansas. We played some schools and raised some money for our extended family, Jesse and Tracy Reichenberger. Thank you to all of you who attended the benefit show at the Wave – there is no better family on this planet.
That concert and the amazing people that showed up got me thinking how much of my life took shape right here in ICT (the airport code for Wichita). Much of who I am—and what I have embraced—came from my formative years with friends and mentors from the Air capital. This post is me giving it up for the Wichita musicians, mentors, and crew who have given me the greatest gift I could have—a life in music.
Jesse has been family since we won our seventh-grade talent show in Wichita at John Marshall Jr High. We went on to play in drumline and jazz band together at North high school, then off to KU before we finally joined the road circus full time. More about Jesse—and our musical brother in arms Billy Driver—at the end, but first, let's time travel to middle school, where we looked like nice young ladies with our fine mullets and Z Cavarrici pants.
A flood of memories tonight. Little league games where I threw my glove to stop the ball and would of been beat up if catcher Layne Bouche didn't trade personal security measures for me giving him bass lessons. My uncle Jack Graham yelling "Rock n Fire!" and "Lock their heels!" – my heart beating out of my chest out in left field hoping no one would hit the ball in my general direction. Century two- playing jazz down by the river. My first Les Paul guitar- white pickguard on pure metal black. The smell of the brand new felt guitar case and the blitz cleaning cloth. Perfection if it ever existed.
North high school – early morning fog rehearsing with the drum line near the running track (Jesse as section leader) – the canoes down by the river. The big ditch and walking down by the flood plain listening to my first 4-track mixes. Fireflies and long summer nights with huge storm heads rolling up and over. My first real love and her Clark Griswold looking car. Hiding out in my room trying to figure out the endless secret that was an electric guitar.
My mom was substitute teaching around USD259ICT and teaching piano lessons after school, scrounging up money for me to get guitar lessons from an amazing cat named Ray Berry. Ray took me to my first recording studio at age 13 to record my first instrumental guitar cassette (yeah, cassette :-)), "City Lights." This was engineered by Steve Falke at Cornerstone Studios. Just this past week, both Ray and Steve showed up at one of our school shows.
RAY BERRY
I remember like yesterday going to Ray's little cubicle at Miller Music on Central Avenue and being shown the holy grail of solo guitar players—THE MODES—which he filled out on a little chart, dot by dot, by hand. He gave me an understanding and confidence, and also never put down what I was passionate about. I had gone to a jazz guitar teacher at WSU before I met Ray. The guitar teacher asked me what I liked, and I rattled off my sacred little cassette collection: Hendrix, Yngwie Malmsteen, Kiss, etc. This other teacher immediately went into a rant about how subpar rock guitar was to jazz guitar, how I should stop listening to such banal music, etc. I was CRUSHED.
It's funny how much of our power we give away to adults when we are young. In my gut I knew what I wanted to learn, but he was a seasoned pro, and I was a 12-year-old—three feet tall with ZERO confidence. Never tell a kid who has found something as pure as music that they should stop listening to something they love. I remember sitting in a Wendy's parking lot, dead of winter, questioning whether I had what it took to be a working guitar player. The only thing I had any natural talent at was dissolving in doubt. Thankfully, my mom never took me back there, and I soon found Ray.
JERRY SUMNER
Jerry's nephew Jamie Sumner was one of my best friends growing up, and to this day, we are thick as theives. Jamie went on to play professional football (yeah- that 1 in a miillion thing) – but before that him and I had a mean little duo that his uncle Jerry kindly supported from beat one. Jerry was the only guy we knew who lived in LA and had a record deal, so in our minds, he walked on water. He still does.
Jerry was so supportive and full of amazing stories- I can't even quantify the effect it had on us. My mom bought me a four-track in seventh grade (a Tascam minicassette—a device that still lights me up when I think about it), and we would hole up in the garage at 2718 West 27th Street till the wee hours of the morning working on our masterpiece: REVOLUTION IN EMI! Including near-hits like "Kraus's House," "Cheez Weez," "The Heat of the Fire," and my first pop song, "Falling For You."
Jerry gave us about 90 percent of the gear we used to make that little cassette. An old Roland Juno keyboard, his P bass, guitar pedals, various drums. He also came over a couple of times and made us laugh till we cried and told us the only thing young people need to hear when they are finding themselves is KEEP GOING.
He has a glass eye and would pull it out and show it to us and say, "I'll keep an eye out for you boys." He would put mustard and ketchup in his eye socket and smash the eye back in to freak out his road crew. Wonderful. When you are 12, this is gold. It's gold now. Jerry is a rock 'n' roll riot on every front, and he can play every instrument he touches like it's his main instrument. He is a gift as a musician and a human being.
GENO MEDINA
Around eighth grade, I met Geno. I have probably stolen more from this man's guitar playing than anyone ever. When I was 13, Geno let me play with a gigging club band called The Other Side. The other members were Turner Williams (vox), Ronnie Medina (bass), Mario Medina (keys and vox), Danny Holzrichter (guitar), Troy Hagar (drums and a killer copy of Bon Scott on vox). I dressed up in my old duster jacket thinking I was cool, and they marched me out onstage for the solo in "Mr Crowley" by Ozzy. They also had mean covers of "Don't Dream It's Over" by Crowded House (still moves me to this day) and "Something About You" by Level 42.
I remember one fall afternoon like yesterday. Geno took us to Jim Starkey Music Center to buy guitar strings, red suckers the shape of music notes, and some blank cassettes, and we went to my mom's house and hid out near my Onkyo double-cassette deck for countless hours. You could plug directly into the cassette deck, record the drums, then play that tape while you recorded bass live over on top of the drums into the second deck. Then move that tape to the left, add guitar, and so on. Every time you bounced, you added a little more hiss in the chain, so it taught you to get it right and COMMIT. I don't know how many hours I spent making my first little recordings with this trick.
Geno could write an entire song in less time than it took to play it—and he kindly sang on many of my first recordings. I am probably chasing some of the first songs I heard him write to this very day. I couldn't have had a better musical mentor or friend.
KEVIN JOHNSON
This was Geno's partner in crime in the North jazz band before Jesse and I got there. We came to an assembly, and Geno was on bass and guitar and Kevin on drums, and they played something so funky that we still ain't right. They destroyed and lit the school auditorium up like an endless musical lightbulb of creativity and inspiration. It inspired Jesse and I to get our act together, and we practiced harder than ever knowing that despite the bar being incredibly high after Geno and Kevin, we just might get to join that high school jazz band someday. Speaking of that band…
MARLA WEBER
The North High band director was the incredible Marla Weber (who we also got the pleasure of seeing at the Reichenberger benefit last week). North was wonderfully diverse, and thankfully Marla leaned into every musical style and always pushed us to try every kind of music we heard. She was a taskmaster keeping her marching and jazz bands together, but when we were sitting in her office off-hours and hiding out from getting beat up after school, she never put down anything we tried or listened to musically. She knew every hour on an instrument was an hour not in the street or getting into trouble. Anyone that had her was inspired and terrified by her in equal amounts. She has energy to burn, and I can't imagine how many students she has helped over the years. The euphemism "dynamite comes in small packages" was coined for her.
GARY RILEY
Gary was our junior high music instructor and as kind and giving of a soul as ever walked the face of the Earth. Also patient, 'cause back then, we were rowdy and a lot of the kids in his class acted like buttholes. He was teaching us musical history and we were screaming "smiley riley" like a bunch of punk kids. I eventually got the nerve to be quiet and listen no matter what the rest of the mob in his class was doing or saying. He repaid me by letting me hide out in the band room after school, and we became friends. My man Jamie Sumner had a drum kit that was covered in cartoons from the newspaper, and we used to jam after school on "You Really Got Me" and any Zeppelin we could piece together. The sound of those drums floating through the hallways of a huge concrete-looking prison was as exciting as anything ever. I was in seventh grade when a gentleman named Steve Heyen came in and played "Eruption" by Eddie Van Halen. My jaw dropped. I had never seen anyone "tapping" on a guitar. He smoked me, and I went home and upped my practice schedule. (Never underestimate total jealousy in lighting a fire in your practice schedule.)
STERLING GREY
(with shout-outs to drummer Jeff Stidham and bassist Reggie Littleton)
When I was around 14, Sterling let me sit in on guitar with his insanely talented band at a little club in Wichita called Two Feathers. These musicians were light-years beyond me, but they played some 12 bar minor blues that I could jam on and featured me on a song, and it meant the absolute world to me, as I looked up to them (and still do) beyond measure. This sort of kindness in a young musician's formative years is invaluable.
Soon after, my mom took me to Sterling's house for guitar lessons at two a.m. because Sterling's schedule was: play a gig/practice all night/sleep in the day. Very few moms would do something like this, and I'm very grateful. I remember his big Cadillac outside and him playing versions of jazz standards so beautifully that I thought the guitar was gonna levitate around the room. He was talking about building a guitar in semitones 'cause the frets he had were not enough. Uhhhhhhh. He instilled that wonderful truth that the guitar is beyond science—it is mystical and consists of endless rooms and doorways. There is always another chord or tone or melody, no matter how many hours you attempt to unlock its secrets.
These last few ICT angels aren't musicians, but they had everything to do with me not losing my mind when I was coming of age…
PAT BROWN
This brilliant English teacher from North High set so many of us on the path, including the wonderful author Rolf Potts, who you can check out in Tim Ferris's blog and books. Brown opened my mind to a much deeper level of reading, curiosity, and thinking outside the box.
THE BULL
There was a painter named Richard who would come by and pick me up to go paint houses/mow lawns/do odd jobs. We would start early, head to the gas station, where he would buy a jug of orange juice, pour half out, and add gin. He worked as hard as anyone I've ever seen, and though he was kind, he didn't listen to any whining or excuses. I watched him work like a mule, and it taught me to stop complaining and concentrate on keeping up. This served me well for what would become a million load-ins and load-outs in the dead of night in my own job.
WADE HAMPTON
Also not a musician, but probably the purest and most prolific artist I know. He creates amazing work on so many platforms and is a brilliant painter, an amazing filmmaker and poet, and he says what he wants and does what he says. We could use a million more like him. Thanks for years of unpaid therapy. Lil Noni is coming for us both.
SHAWN BELFORD
My friendship with Shawn is a universe all to its own. I wrote about him months back (https://goodingmusic.com/blog/mentors-adolescence-and-a-next-door-neighbor-who-saved-my-life/ .) There is no one better. Period.
These are all Wichitans or former Wichitans who at some point lifted me up and believed in me when I needed it most. There are many others who invested time and love and believed in me when I needed it most: Julie Ann Baker Brin, Jamie Ruble Auten, Lonny Quattlebaum and Eric Zoeller, Erin Calvin, Dustin Parker, Mike Marlett, Shelly Fraley, Joe Morrow and the Entermotion crew, Allison Sanders, Dave Turner, WALL—the list goes on and on, and I will be adding to it. I just hope they have even a tiny idea of how much I adore and appreciate them.
I'll close with where I started, my brothers in arms Jesse Reichenberger and Billy Driver. Jesse is of course from Wichita, but Billy played enough shows in ICT over the years that Wichita considers him their own and so does my family.
Jesse and Billy and I spent more time with one another on the Midwest roads than our own parents—more miles, more tears, more Jack Daniels, more three a.m. loads, more everything. We have traversed through 48 states and three countries together. The stories I have with Jesse and Billy could never fit in a blog post or even a book. We've tested the mettle of our friendships quite a few times, and they are much too strong for anything to damage. I'm not sure I even fully comprehend them yet myself.
I live in Nashville these days, but my mom, stepdad, aunt, uncle, and cousins all reside in ICT, as well as so many of the people who put me on a path to playing music for my life. In the end, so many roads lead back to ICT—and I am so lucky to have had these folks to light the path from the beginning.
G
Gooding writes a new post most Wednesdays. Please like and subscribe on all social media sites with @goodingmusic. You can also subscribe to the blog's RSS feed at http://goodingmusic.com/blog/feed/.