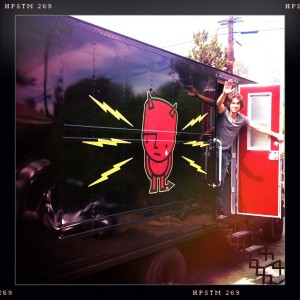 As I post road stories, this one gets asked about quite a bit, and it's high time we tell those of you outside the inner circle what happened a few years back on a fine fall day in Cheyenne, Wyoming…
We were working overtime to launch the charity Funding The Future with our Cheyenne friends Michelle Dehoff and Rita P. They had set up a meeting to pitch US Bank to bring us to Cheyenne to talk to high schools around the city.
We, of course, took our beloved bus LIL RED 1 (the numbers correspond to the diesel engine we are on) over to make the pitch. We had just painted every inch of the rig flat black. Other than two devils on the sides, there was nothing on the bus. There were no windows except on the front, and everything to the back was blocked off with a curtain. We had recently tagged the vehicle, and the temporary tags were up front, next to the VIN number on the windshield, but we had maps and coffee supplies and God knows what else covering that area completely.
Dummies.
Parking a 30-plus-foot vehicle is never a picnic, but, oddly enough, the "magic city of the Plains" was void of parking that day, and the one place we could find was almost too good to be true. It was in front of a huge brick building, and there were no signs we could see telling us to stay out. We parked, locked it up, and walked the couple blocks over to US Bank to meet Dehoff.
We made the pitch. It went fantastic, and we were all in good spirits. It was a really important day as we needed an established company to give the charity some relevance and credibility. Some of the bankers decided to walk us back with us to the rig before we left town.
As we got closer to the bus, we noticed flashing lights, bomb-sniffing dogs, and several cops surrounding the vehicle. We all started walking faster to figure out what had gone wrong. We have had plenty of conversations with cops and are never afraid to address situations head on—goes with the territory when you are playing in some dangerous places and living out on the highways, but this felt different.
As we got close, one of the officers yelled out, "Is this your vehicle?"
I started in, "Officer, what's wrong? We just parked here to…"
"WHAT IS THIS VEHICLE DOING HERE? SHOW ME SOME ID!" and with a chill, I realized there were hands close to holsters.
I got out my ID, and the cops and dogs continued to circle the bus.
"Have we done something wrong, officer?" (me starting to feel like Chevy Chase in a National Lampoon movie).
"You have parked an unmarked bread truck"—cops don't see this thing as the beautiful, handcrafted bus that it is :-)—"in front of a federal building. You have no plates, and we can't find a VIN number to look this vehicle up. We don't have a warrant, but we need to know WHY you are here and WHAT is inside."
(It was something along those lines. If you are a lawyer reading this, don't worry. They were being as calm as can be considering how bad this whole thing was starting to look and feel.)
We instantly got out the keys to the side door and offered the cops a look inside. We would have done this either way, but we could feel our new sponsors for FTF thinking, Is this the circus we are bringing to schools with our brand logo on it?
We pulled down the little black RV steps, and I got on the bus and started telling stories. Nothing calms things down better than a little positivity and transparency.
"Come on up here, everybody! I know this thing looks like a battle-ax, but it's a peaceful place. Took us forever to build but so helpful on the tours. Check out the bunks! Built-in reading lights and everything! We can record in here, too…" (they looked all around, and I could feel them calming down). "Never mind devils all over the place. We say, 'Play so good you make the devil cry.' Here's a postcard with our tour dates. Want a keychain? Yup, those are guitars in these old school lockers we found on the road… Hey, we got a fridge, too. Want a Pepsi?"
Meanwhile, in back of the truck, a couple of cops were asking Billy and Jesse if they could see behind the roll-up door where we keep our gear. We open it up and out pours dozens of Lil Red dolls that were loose in the merch case.
So now we have a rock band, a bunch of bankers in suits, a bunch of cops, dogs, and a million little dolls that look like fluffy chew toys pouring out in the streets of Cheyenne.
We are still holding our breath. At this point, some of the sponsors start laughing, then some of the cops. The rest of the band comes up into the bus with more cops, and one of them asks Jesse about what drum heads he likes—apparently, the cop was a drummer when he was not busy defending the good people of Cheyenne from terrorists posing as a rock 'n' roll outfit.
All's well that ends well. We were sent on our way and told to get our plates on soon and UNCOVER THE VIN NUMBER FOR CRYING OUT LOUD. They told us to have a great next show, and we were on our way again.
We have since been back to Wyoming about one gazillion times. It was one of the first states to embrace Funding The Future, mostly due to Rita and Michele's hard work helping set up the 501(c)3. We signed proclamations with Gov. Matt Mead four years running and played in every town you can imagine, including Greybull, Cody, Lovell, and Powell (thanks, Jc3), Casper (Devore magic), Rawlins, Gillette, Buffalo, Sheridan, Basin, and Laramie.
All our love to our amazing friends in the Plains for bringing us back so many times, and to the cops who took us on our word that we were there to spread some music, not to hurt a soul.
See you next Wednesday for more tomfoolery and chicanery. Love you all.
—Gooding
Please subscribe to @goodingmusic on all social media.
You can also subscribe to our blog's RSS feed: http://goodingmusic.com/blog/feed/.