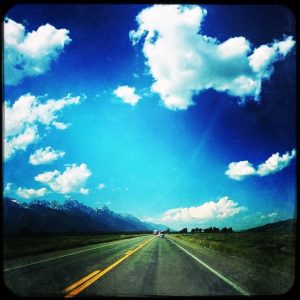 In 2010, we played at least one show in every state in the lower 48. Bowling alleys to bookstores, military bases to street corners. If there was a place to make music, we gave it all we had. We lost some money but made some incredible memories. Funny how that works, ain't it?
Many of the shows were incredible; many of the shows were just us sweating it out for two bar backs and a cricket.
Today I'm thinking of a story from state number 46 in the run: Idaho.
The countryside there is breathtaking. We had been told Couer d'Alene was one of the most gorgeous places in the country for years, and that proved out right.
We had the most startling introduction to any club we have ever played. After driving all day, bassist and international man of mystery Billy Driver got out of the van and stepped foot onto the gravel parking lot of THE GRAIL. This was a large, metal-sided venue with about 100,000 watts of sound for their PA. The sound roars through the beautiful forest scenery around it, regardless of how few people are in the club. It was dusk, and we were all so tired we barely remembered our names. It was month six on the road and maybe our 130th show.
A huge man in full biker regalia walked up to Billy. The guy looked like he had fought many wars, and later we found out he had. He quickly and calmly pulls out a switchblade and slides it right behind Billy's ear and says… "So, which ear's your favorite?"
As time is stopping, Jesse and I are moving toward the man, running every scenario in our head on how to get this knife away from Billy. Billy calmly says, "Well, both I guess."
The man pulls the switchblade back, laughing, and says, "I'm just kidding. I'm your promoter for the night. Welcome to Idaho!"
Good God.
My heart rate was in the thousands, and somehow Billy was still taking drags off the same cigarette and just looking around at the trees. Wasn't rattled one damn bit.
The night turned out just fine. A cat named Ron Greene opened the show, and Ron is a gentleman and a scholar (and damn fine songwriter). We have never rebooked The Grail, not sure if it still stands, but we moved onto Seattle the next day with all ears intact.
I can't put into words how much we miss touring with Billy Driver.
More road stories, half-baked wisdom, and musings on creativity and songwriting here every Weds. But before I go, here are your Idaho state facts…
State Fact #1: Idaho is home to the longest Main Street in America, 33 miles, in Island Park.
State Fact #2: The state house in Boise is geothermally heated from underground hot springs.
State Fact #3: Idaho has a canyon, called Hells Canyon, that is 7,900 feet deep. It's deeper than the Grand Canyon by over 1,800 feet.
Xoxo,
G
Gooding writes a new post every Wednesday. Please like and subscribe on all social media sites with @goodingmusic. You can also subscribe to the blog's RSS feed at http://goodingmusic.com/blog/feed/.