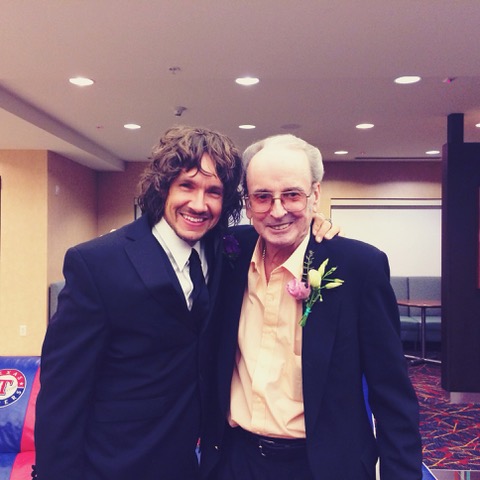 "Now is the season to know everything you do is sacred."

—Hafiz (thank you, Pat Blair)
Someday you'll return to
Your valleys and your farms
And you'll no longer burn to be
Brothers in arms


—Mark Knopfler, "Brothers in Arms"
"You can't conceive, nor can I, the appalling strangeness of the mercy of God."

—Graham Greene (spoken by Josiah Bartlett in West Wing)
---
E-cig lighters and chargers blinking like tiny red satellites, national park stamps and NPR radio buttons, Arizona Diamondbacks spring training schedules, two cats and cat hair everywhere.
His old wallet, years of unopened mail, an old Louis L'Amour book on tape, and a Walgreens receipt showing five boxes of merlot and a donation to a children's hospital.
How perfect. His flaws and his unyielding kindness encapsulated on one little piece of paper.
These are a few of the things lying around the living room as I start to pick up the pieces after my father's death.
I look at the computer he will not write an email from and the cell phone he will not speak into again. I will never erase the last few messages he left before he lost his voice. His messages, always energetic, rambling, filled with humor and truth.
My pops, known to those who loved him as Danny Dark, was as intelligent, offbeat, soulful, funny, and full of life as anyone you could have met.
In his heyday, he did acid with the Hell's Angels, protested the war on air in San Francisco and made the FBI subversive list, closed down half the bars in Detroit and Wichita hammering "Russian Quaaludes" and "Rusty Nails" later in the night than guys twice his size. He paid a guy to take college classes for him while he DJed rock radio around the country, including a stint with Wolfman Jack down in Tijuana selling autographed pictures of Jesus and shipping out "original splinters from the cross" (busted-up railroad ties he cut behind the radio station). It was down south that he got his radio name: "Danny Dark after Dark—20,000 watts over Tijuana."
He took me to see Kiss when I was just four. At eight, he built me a tiny radio transmitter from Radio Shack parts so I could play records and listen to them on my friend's radio across the street while we played soccer. (This was real magic, pre cell phones and Spotify.) By the time I was 10, alcohol had fully taken hold of him, and he wasn't around for much of my teenage years. But he never had a malicious bone in his body, and I know he wanted to be there for my sister and me more than he was. I spent a lot of years as a young man blaming him—resenting having to be "the man of the house"—unaware I was being given a gift—a sense of determination and survival that manifested itself into my obsession with music. Pain brings questions that need to be answered sooner than later. After growing up a bit and putting down some of my righteous indignation (and my pops finding AA), we ended up becoming best of friends and thankfully remained close from then on. He was able to relive some of his genuine love for all things radio as he made a ton of phone calls around the country working to get the band airplay and was instrumental in helping us keep the road lit up. You could name the smallest town in America and if it had a radio station at any point in it's history he knew the call letters and just how many listeners it had. He asked about the band to the very end and Jesse Reichenberger and Billy Driver were like sons to him.
I got my love of rock 'n' roll, my political bent to fight for the underdog, my revenge on all things chaos from this man. I also rebelled against his behavior as a teen by becoming a square. Not much has changed.
Over the years I have been able to piece together more and more of what his own childhood was like. We called his parents by their actual names- there was no Grandma and Grandpa used. The more I discovered about his own upbringing the more I realized how incredibly well he broke the chain from the lack of affection he dealt with as a child- and why he lit out across the country himself before he had a family. As he got older he told my sister and I countless times just how much he cared about us – and we are so lucky to have had those years to share. Once he settled down these last years you couldn't get him out of his living room, but he was happy to stay on the phone for hours- especially if you wanted to talk music, business, politics or stormy weather. Some of you reading this have probably had those conversations with him- there was not a fact he couldn't remember or a story he hadn't read about the things he was passionate about. Anytime the band was touring somewhere with bad weather around us, I never had to look up how bad it was gonna get – I knew if there was real trouble Danny Dark after Dark would be calling us with an update.
I would have given anything to have had him here longer, and I miss him so badly, some days it cuts me in two.
---
He was only 72 when he passed on, but he lived like a rock star on his own terms up until his last few months. He had COPD4 (was on oxygen after a life of smoking). He had fallen a couple of weeks before and was admitted to the hospital with pneumonia. Thankfully, his amazing partner across the street, Pat Kelly, took care of him until we could arrive. He always avoided doctors like the plague and was adamant about DNR (do not resuscitate), despite living in a state where they want you alive to your last second on earth, no matter how little of you is really left. He never wanted to end up having us take care of him if he wasn't fully there, and we are lucky he wasn't in that state for too long. I know several people who deal with this for months and years, and my heart goes out to them and their families.
I won't go into what he called an "organ recital" 'cause he would have hated it, but after a few days in the hospital, he was flying too close to the ground, and the docs had given up. We started making calls to his friends. Then out of nowhere he bounced back. At one point he looked up at me with a gleam in his eye and said, "We had a little dust up now, didn't we?" I burst out laughing, tears welling up, more relieved than I have ever been in my life. That night, we all gathered around with him to watch Rachel Maddow. He even yelled at us when we talked too much during the show. 🙂 Things were back to normal, and it was wonderful.

We decided to move him into rehab. He was six one and down to 110 pounds with his body fighting so hard to breathe, but he agreed to do the work and follow the doctor's orders. It's insane that anyone has to go through this without insurance or moral support, and I can't imagine what we would have done without both.
My sister and my wife and I got to be with him round the clock for a couple of days, telling old stories, playing old blues songs through a little speaker by his bed. Toward the end, he thought he was back in Detroit where we first grew up. We recalled memories of that time for him—fireworks he gave out as prizes to my Cub Scout troop, Pac Man machines we sent through college as we drove around the snowy Midwest with him selling fax machines, our Irish setter, Shannon, panting in the back seat. Dressing up as Kiss every Halloween. Stories of him and his outlaw friends working in the trucking business back in Detroit.
The very first night he was left alone, he had what must have been a stroke. I got back early the next morning, and he didn't know who I was. He grabbed my hand and started to speak but could not make the words come out. Fear filled his eyes. He cried out, and he started to seize while holding my hand, and I knew in my soul what he was trying to tell me. This is not what he wanted. He told me every time I visited him. We met with several people, tests and forms, tests and forms, and soon began the morphine and Adavan. We were told it would just be a few days now. Quietly the hospice staff and nurses came and went. The kindness these folks provide during such living nightmares is some of the most important work on this planet. Again, we were so lucky to have such great care.

We were told that oftentimes the patients wait for the families to leave the room before they pass on. We stayed at hospice round the clock for the next few days, and then on March 2 around 10 p.m., as a hospice worker came to relieve us to go have dinner, Dan Charles Gooding quietly and peacefully stopped breathing.
I raced back to the room. I was numb. It doesn't seem real seeing them lie there without taking another breath. No amount of time would have been enough, but the finality is too big to comprehend when it first happens. It works itself out over the next few weeks as everything you see breaks your heart. The death of my father is the hardest thing I have ever dealt with, and yet it came with the greatest, albeit strangest, gift I've ever received…
---
A Ghost Story
This February, a few weeks before my father died, the Mark Knopfler song "Brothers in Arms" came up on Spotify. I had forgotten how much I loved this song, how much it moved me during my pop's favorite show (and mine), The West Wing. My favorite montage ever is the last few minutes of "Two Cathedrals"—President Bartlett has to decide whether he wants to run again, dealing with the ghost of his father, losing a close friend, and his own demons and health issues. "Brothers in Arms" is the score for end of the season, and Knopfler holds the planets together during that final guitar solo. He is singing his soul out through steel strings and wood. Over the course of the next few weeks—and not even realizing I was doing this—in every free moment, I looked up everything I could about Mark Knopfler. Not since I was a teenager had a dug into EVERYTHING I could find on a single guitar player. Every word and deed. YouTube videos. Old live footage. Anything Knopfler I started collecting. Religiously. I started playing without a pick again. I ordered ancient guitar magazines with him on the cover. Listening to him brought me this strange peace. I built a huge playlist of all of his solo records.
Weeks later, my father passes, and I go home the next day from hospice to start tour rehearsal in Nashville. Keeping it together during these sessions with the band was almost impossible. That next Saturday night around 10 p.m., not knowing I was exactly a week to the day, hour, and minute to when he died, I went upstairs and "Brothers in Arms" came up on my playlist. I looked up the lyrics online and started fighting back tears. I was cursing the times I never spent with my father—I was full of regret that I moved from LA and wasn't closer to him at the end. That I didn't know how bad he was before I went out to Arizona (he didn't want us to know). I played the song on a loop, and before I knew it, I was sobbing so hard, my face was frozen still in pain. (I had held it all in for a while, but nothing helps keep you stay sane more than an ugly cry when you can't take it anymore.)
Cut to one week into the tour. We knock out a few shows, and I fly to Arizona to clean up his house, open his mail, pay his bills andtaxes, etc. In his garage are these old floor-to-ceiling wooden cabinets that are stuffed with ancient files and junk. On one of the shelves was an old double cassette deck with the separate receiver, EQ, and two speakers. Dusty and worn out. There were cassettes strewn around it in old leather cassette cases. I had no idea this stereo existed or that he had any old cassettes at the house.
I looked into the player, and there was one tape in the deck.
Yeah.
It was the record Brothers in Arms. It was cued to the title track.
Cue ugly cry number two. I exploded into tears. I paced around that garage with a brand-new fire in my soul, yelling out in some combination of thankfulness, fear and wonderment, understanding and total confusion.
---
Who would have thought it would be an old cassette that gave me some vague, unexplainable hope there could be something bigger than death, something more connective than this randomness and chaos? It's hard to feel and explain when evil walks so freely across the planet, but it's there, something above/underneath all of it that keeps us waking each morning, keeps us fighting for all the things science can't seem to fully explain—love, dreams, memory, kindness, and of course, music.
---
Danny Dark after Dark—the man who loved Harris hawks and Motown, ham radio and Keith Richards, IMVU and all things rock 'n' roll.
There is now the world before and the world after. It's nothing like I thought it would be. It's not constant sadness, but when it comes, it's all-encompassing and throws the world off its axis. Sometimes there is a pain, a weight behind my eyes where it hurts in thicknesses, where I can't cry enough. When the despair comes, I reach for anything and everything I can be grateful for. And there is a lot. My dad's lady Pat, my sister, and my wife, all so incredibly strong during this ordeal. I can't imagine going through it without them. My mom, who always loved him and always will. My friends who have been so incredibly gracious and gave me brilliant advice every step of the way. Jesse Reichenberger and Wade Hampton both figured out how to make me laugh and cry in the same damn text. I love and cherish all of you even more that you know, more than I can say, and more than ever now that that I know how fleeting this entire ride really is.
We all have the debt of our parents and our own lives to pay, but that don't make it any easier. If you have someone you know is kind but you are holding a grudge, my lord, go talk to them. Fix it. Life is incredibly short and fragile. I guess that's what makes it worth living and worth fighting for.
RIP Danny Dark. I'd give anything to have you here one more day, you wonderful madman.
Thanks for reading, Love you all.
G
Now the sun's gone to hell and
The moon's riding high
Let me bid you farewell
Every man has to die
But it's written in the starlight
And every line in your palm
We are fools to make war
On our brothers in arms


—Mark Knopler
Please subscribe to @goodingmusic on all social media.
You can also subscribe to our blog's RSS feed:http://goodingmusic.com/blog/feed/.