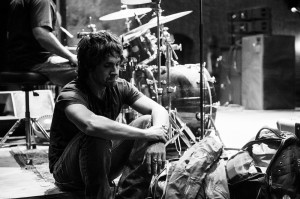 Just wrapped week nine of 10 on the road down in Naples, Florida.
Played four shows with our amazing sponsor and good friend Ilona Box of Church and Box/Raymond James.
This last show of this week was at Lely High School, where some of the lighting in the auditorium is still out from last year's hurricane. No matter, no mind—the students held out their lit-up cell phones, and the show and speech blew right by. Seeing a rock concert with all the lights on is a little bit like seeing the inside of Space Mountain all lit up—kills some magic and mystery, but when the spirits are this high, it is of no concern. Smile and do what you do.
Brutal 15-hour drive back up to Nashville through traffic, rain, and Tyler and Zeph making silly puns. 🙂 One stop at Cracker Barrel, in which I held us up looking at all the gaudy but wonderful Christmas paraphernalia.
Fish. Broccoli. Salad. Water. Black coffee. Keeping on my cal count and workouts. Diet, exercise, sleep is the key to so much of what we are able to accomplish in a day. Genetics matter, your attitude matters, but if you eat sat fats and drink booze all the time, eventually you get down and burnt out. I know if I blow off my discipline on any of these things, I don't perform as well as an artist or a human being.
The tour has been amazing, albeit insane, with changes in routing, the pistons in our bus blowing out, and starting the run with a club/theater every night for the first couple of weeks with our friends Carter Hulsey and Me Like Bees. We have covered a lot of miles and had a lot of sleepless nights, but we are still going strong playing high schools with our friends at Funding The Future…
* * *
Here's a typical weekday on the road:
Four or five a.m. — ALARM
Start coffee.
Some pushups/situps on my little gray mat—get the blood moving.
Grab a little bit of food in lobby.
More coffee.
Answer texts/emails in van on way to show (our bus is getting its third engine as we speak).
Six or seven a.m. — Check in at the school office—give ID—put photo in system.
Load in (sometimes in the dark) and set up.
Check lines and details for show—special guests—sponsors—info in the speech specific to the town we are in.
8:15 — Soundcheck.
9 — Sponsor brings us on and our amazing road manager Tyler "Collosal" Cossell plays our hypey intro film to get the kids fired up.
9:10 — PLAY, SUCKAS, PLAY!!!!
Set list:
Troublemaker (eon solo)
Classical solo/Down to Ol' Mexico
Bring the World Around
Because It Hurts (intro each member)
Last Train Out (eon, G, Jesse solos)—big feedback ending—throw out the doll—announce social media—then hide backstage while the two-min film plays. Wipe sweat, drink water, get out of music mode (my favorite mode), and get ready for the talk…
9:40 — Speech about financial literacy/leveling the playing field for all students.
10:05 — Q and A with students. We have had almost ALL financial literacy questions this entire tour—the kids are freaking amazing, and if everyone could see how hard they are trying, how much they want to learn, we would all do more for our schools and public education.
10:30 — Sign posters—give out buttons and stickers—take photos. Answer more questions. Possible interviews with local press/radio.
11— Load out.
11:30 — Text or call wifey. Either rush to next school or go comatose to a local diner and eat. Talk about life, music, and, unfortunately, the daily barrage of bad news as this country we love so much feels like it is tearing at the seams.
12:30/1— Either drive to next city or back to hotel, calls, check social media, more emails, workout or walk around whatever city we are in. Maybe a nap if you get lucky. (Today I'm taping a little video for the LIL RED ARMY—the kind folks in our subscription service that give us five bucks a month for five songs and access to shows/merch).
3 — If no conference calls/press/fires to put out, then read/write, read/write, read/write. (My favorite.) Or if you have nothing in the tank, you find a target or a park and walk around listening to podcasts or great music and zone out. Fill the well. This gets harder to do the longer you are on the road.
Evening — Text or call with wifey. Dinner out or hide with cooler full of food that doesn't kill me. Maybe a little bit of Netflix (watching CNN the 90s) or HBO (Bill Maher/Jon Oliver)—more email and calls—try not to eat 67 chocolate bars before bed. Fail.
Asleep early to start again at four or five a.m. If no show, you are in the van driving from three to 10 hours.
* * *
You do this enough months, and no matter how much you love it or grateful you are to have it, you start to go a little stir-crazy. But we are proud of the work, and we would do almost anything to see it build and build.
One more week in Atlanta (six shows this week), and then we are off to dream it all up again. I love the holidays, and this is the first time in years I'll have Halloween, Thanksgiving, and Xmas at home. Whew! Cannot wait.
Thanks for checking in, and see you right here next Wednesday!
—Gooding
Please subscribe to @goodingmusic on all social media.
You can also subscribe to our blog's RSS feed: http://goodingmusic.com/blog/feed/.