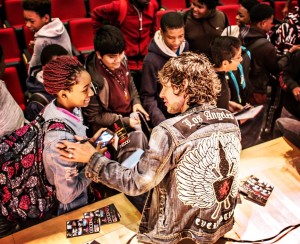 It's early morning dark. We get our badges from the check-in station. We load into the 50-year-old building under the sodium light of one streetlamp. Bars over windows and metal detectors. The hallway smells like urine. You need a key to use the restroom, and someone will wait outside until you are done. Some of the toilets are filled with trash. The tile floors are cracked. There is loose wiring from the ceiling, and old paint peels from the walls.
We are not playing at a prison today—we are playing at one of the thousands of public schools not getting enough funds to survive in a meaningful way. This school is sadly similar to others we have played in Detroit, Flint, Compton, North Nashville, Atlanta, all through the United States.
The rich get richer, and the poor get … really crappy public schools.
We start to set up for today's show and speech. Every show we set up brings a new set of circumstances. There are partial and entire seats ripped out in the old auditorium rows. Bare rusted metal. Show curtains so tattered they are falling apart. The stage is so dusty you gotta wash your hands before you hit the guitar strings. Half the electrical outlets won't work—they are full of dust and cobwebs. Our tour manager Tyler shines a flashlight backstage so no one trips over the junk piled up—old busted audio gear, an old podium, and at one school, an old toilet.
Despite this all sounding like some post-apocalyptic scene from a movie, the kids helping us load in are joking and smiling. They are still young enough that their hope is fighting to stay alive. I am constantly reminded how much unlocked potential and fire there is in young students, despite some of the most heartbreaking of conditions. And it kills me how easy it is for us to forget what these kids are up against day in and day out. We've had kids hiding backstage begging us for food. Kids who tattoo slogans like VALUABLE down their arm to remind them they are not the trash a parent has told them they are. With this lack of basic support at home, it's crazy to think this is all we can do for them when they come to the place that our tax dollars are supposed to be used to teach them and keep them safe from harm.
The principal just informed us not to use the school's freight elevator or the busted main load-in doors—they have been under construction for months. The public school we are playing this morning is literally two blocks from a neighborhood filled with multi-million-dollar homes, manicured gardens, and $150K sports cars lining the wide sidewalks. I asked the principal, why no money to finish the construction here with such opulence right next door? The answer: "Those folks can send their kids to private schools. We are on our own."
Nowhere can you feel the division more between rich and poor, cared for and ignored, those full of hope and those full of despair than while traveling across the US, spending time in the public school system. These kids are literally going to school and trying to learn in hazardous conditions.
I am lucky 'cause we get to make MUSIC here—something sacred that still crosses all the lines and labels that divide us: gender, sexuality, race, age, political views. Thankfully, rhythm and melody know none of this noise. I get to watch some kids morph from apathetic/checked out/arms crossed/headphones on to clapping, yelling, smiling, and singing along with us. We work with a charity that we helped found, Funding The Future, along with two other amazing acts, Carter Hulsey and The Reminders.
I see kids every day willing to TRY, willing to WORK, to LEARN, to be KIND, and who want to know what the rules are. I believe they have almost limitless intrinsic worth—not worth because of the neighborhood they were born in or what their family name happened to be when they were born. These are kids with the potential to create something that changes things for ALL of us. What a waste of resources to not let their ideas and creativity find their way. We are putting limits on how high society can rise when we ignore these kids.
You can take the happiest child, and you give them enough years without basic resources, emotional/physical violence at home, food with no nutrition, teachers raising money for their own supplies in crowded classrooms, lack of opportunity, the feeling that the world is not concerned about them, and you will watch their spark dim. If a child feels no one cares about them, it's only a matter of time before they care less about themselves and those around them.
If I don't have purpose in my life, I am going to make your life a living hell. The poor and the underserved must be given a stake in this thing we call America or I promise you they will tear it up—right before they tear it down. —John Hope Bryant
NOT JUST BROKE—HOMELESS
We are used to playing schools that are 95 percent free and reduced lunch, but our friend and fellow FTF artist Carter Hulsey just performed at a school in North Carolina that is 35 percent homeless. Yes. Kids trying to attend school without a home to go back to. Think about this for a minute. Think about how much different you might feel or see the world if this was your experience in the most formative and fragile years of your life.
USD259 WICHITA
Back in the day, my mom taught music at several public schools in Wichita, Kansas, Unified School District 259 (many of these music programs were eventually cut). One day there was a young African American girl scribbling with a Sharpie on the wall.
My mom said, "Why do you want to wreck your school like this?" The girl didn't move her gaze from the wall. She simply said, "It's not our school—its y'alls school." To me, that sentence perfectly encapsulates the giving up, the gap, the hopelessness, and the feeling that so many people feel left out.
As we move away from putting time, energy, and resources into our public schools, it is inevitable that the schools will become more segregated: socioeconomically, culturally, ethnically, etc. Studies have shown that does not help any of the kids nor does it prepare them for the realities they will face in our society.
PARENTS WHO WANT TO HELP BUT DO NOT WANT THEIR KIDS TO SUFFER
Good and kind-hearted people do not know how to fix this problem but want to. I was hanging with a friend of mine who booked us down in the South. He has done a ton to teach music to kids anywhere and everywhere, and he tells me that despite his work in the community and absolute belief in diversity, "I have to send out kids to private school. I don't want to leave the public schools, but there are sixth graders beating each other within an inch of their lives down here. There are hard drugs being used by 10-year-olds. My kid cannot be an experiment, despite my wanting to change all of this and knowing that if we keep pulling out the kids with strong home lives, it only weakens those who are left to fend for themselves." This is a man who takes every opportunity he can to teach kids around the state but cannot enroll his own kids in the schools he is trying to help fix.
And how many of us can blame him?
WHAT CAN WE DO?
There are no easy answers, and frankly, I don't expect for one second to convince you to send your kid to a public school in one of the areas we usually perform. But if you have enough money to not have even considered a public school for your child, please donate to fix a school in your neighborhood, or donate some time or money to Operation Hope, Big Brothers Big Sisters, United Way, Jumpstart – The charity we work with is at Fundingthefuturelive.org and they are doing amazing work. If we don't start spending more of our tax dollars on education, teachers, and programs for kids in need, if we don't start voting for people who care about others, it's just a matter of time before you can't build gates high enough around your house. History has shown us when there are massive gaps in opportunity for huge segments of a population, it never works out well for anyone. The resources we put into public schools will come back to us many times over.
Can you defend yourself against a society that has lost hope? If you think I'm being heavy-handed here, I welcome you—I implore you—to visit one of these schools in a rough area. You will see young people full of promise, but their lack of role models, resources and opportunity narrows their belief in what is possible for their futures. When you leave people behind with no hope, they are gonna make problems for your kids, and sending your kids to private school isn't going to protect them from what society will become if we keep leaving out the least among us.
Schools are where we directly create our future. We are responsible for stoking the fires of potential and passion in our next young leaders, inventors, our future workforce, those who hold the balance for what this world is going to become. 
They deserve a fair shot. They deserve a more level playing field. They deserve a future undetermined.
I believe we have a moral obligation to improve these schools. We have a moral obligation not to forget young people who so desperately want to show what they can do.
Let's show what we can do. Because I know we can do better. We must do better.
—Gooding
Please subscribe to @goodingmusic on all social media.
You can also subscribe to our blog's RSS feed: http://goodingmusic.com/blog/feed/.